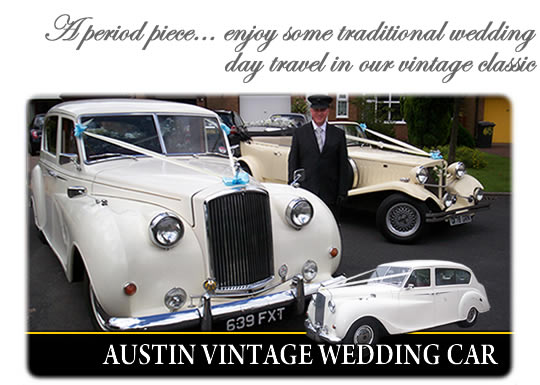 Classic Wedding Car Hire (Austin Princess Vanden Plas)
Our Austin Princess limousine is a timeless classic from the golden age of motoring, a time when the roads were open and life was a little less complicated than it is today! The Princess was Austin's entry into the limousine market, with the A120 range launching in 1947. Intended to rival similar premium saloons from Rolls Royce, Daimler and Mercedes the Princess is regarded as one of the best British motor cars from the post-War period, and remains a popular choice for customers preferring a traditional style of wedding car.
Our Vanden Plas-badged Princess can be hired for wedding day bookings in Middleton and other towns in the Greater Manchester area. Presented in ivory white the Princess' long wheelbase allows for a spacious interior and ample legroom for the bride and groom. The large doors and passenger windows provide good photographic opportunities as the couple arrive at or depart from a venue. As with all Northwest Executive wedding car bookings, decorative flowers and ribbons will be attached to the exterior of the car for the duration of the booking, and your chauffeur will be smartly dressed and ready to ensure your journey is as smooth and enjoyable as possible.
Middleton Wedding Car Enquiries
Austin Princess Vanden Plas wedding car enquiries and bookings can be made by calling our main office on 0800 197 6579 or 01204 522 422, or by completing the wedding car enquiry form.